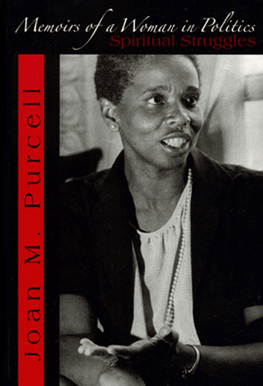 MEMOIRS OF A WOMAN IN POLITICS - Joan M. Purcell (Grenadian author)
Save

$0.00
Save

$-21.95
Original price
$21.95
-
Original price
$21.95
MEMOIRS OF A WOMAN IN POLITICS - Joan M. Purcell This book is revolutionary in multiple ways. It is intensely personal as well as instructively political - both in a revolutionary sense. Rare insight is to be gained of theological and ideological struggles.
Sharp analysis is made of politics in the arena of the Anglophone Caribbean. The perspective of a woman "freshens" the analysis; and, the revelation of the mind of a dedicated Evangelical Christian stamps uniqueness on every page.
Furthermore, practical suggestions are made for the improvement of Western Parliamentary democracy in this part of the world.
The prose is clear and artistic and the information holds interest from beginning to end. Modesty in personality and mastery in writing shine through the story that is compelling reading for anyone with the slightest interest in the history, politics, religion and culture of Anglophone Caribbean countries.
ABOUT THE AUTHOR Joan Purcell, a former elected Member of Parliament and appointed Cabinet Minister, has served in public office for over eight years and was actively involved in her country's political process for over fifteen years.

She is a graduate of the University of the West Indies and the University of Toronto, Ontario Institute for Studies in Education. In her professional life she was involved as a community activist, child and woman's advocate, development worker and adult educator.
The dynamic, versatile and gifted spiritual person that she is best explains her involvement in church life as a Bible teacher, role model, mentor as well as spiritual director. Her life of faith, as a follower of Jesus Christ for the past thirty years, combined with her experiences as a woman in politics is the context in which she shares her exciting and eventful journey.
Currently, she is a Training Specialist/Consultant, with particular interest in Leadership Development. Joan Purcell lives in Grenada near to her son, daughter-in-law and two grand-daughters.