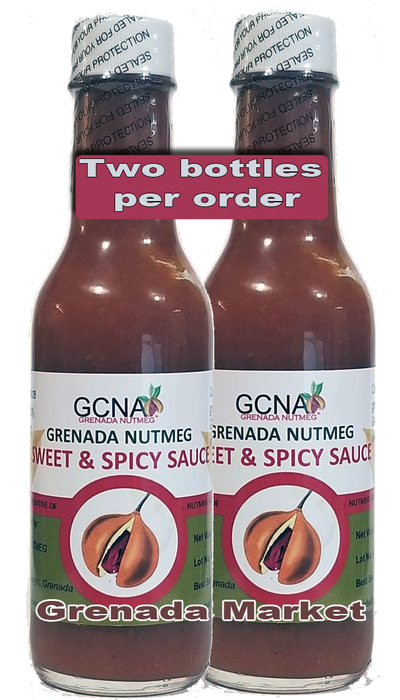 Nutmeg Sweet & Spicy Gourmet Sauce (2 bottles @ 147 ml each) - Grenada, Caribbean
Save

$0.00
Save

$-14.99
Original price
$14.99
-
Original price
$14.99
GRENADA NUTMEG SWEET & SPICY SAUCE:
A unique innovation of the Grenada Cooperative Nutmeg Association, in its quest to showcase and optimize the value of Grenada's prized spice - the nutmeg.

As the key stakeholder in promoting Grenada's nutmeg, GCNA has created several delectable products themed around the Nutmeg fruit. The Nutmeg Sweet & Spicy sauce is an excellent condiment for your fish, meats and vegetables dishes. It can be used as a marinade, in coking or served at the table.

Grenada Market is proud to be associated with these products and urge you to try them. Not only will you be enjoying great mouthwatering sauces, you will also be financially supporting the farmers of Grenada indirectly every purchase.