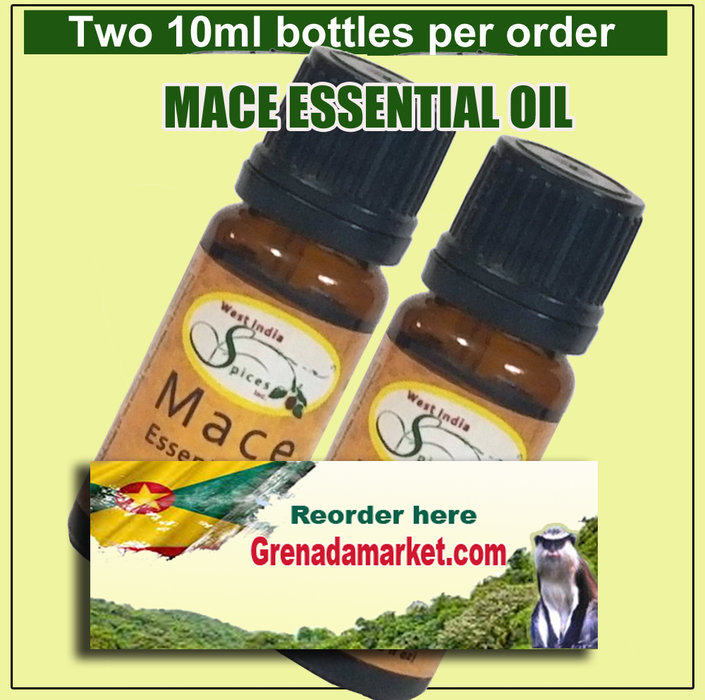 100% Pure MACE Essential Oil - 2 Vials @ 10ml - Grenada, Caribbean
Save

$0.00
Save

$-17.32
Original price
$17.32
-
Original price
$17.32
PRODUCT OF GRENADA, CARIBBEAN
Made from Grenadian nutmegs which naturally have a much safer composition than nutmegs found anywhere else in the world.
SUGGESTED USES:
COOKING/BAKING:
Just a few drops of mace oil to soups or food (according to recipe). This product is more likely to be used in baking, its a Must-Have in baking certain products
Adds smooth rich nutmeg flavour to beverages & ice cream.
HEALTH:
Add a few drops of mace oil to your food or drink to promote healthy gut function and digestion.
Apply a few drops of mace oil directly to affected area for relief of minor aches and pains including arthritis, muscle cramps, & joint stiffness.
Part of preventative treatment for prostate cancer. Just add a few drops of nutmeg oil to food or drink.
AROMATHERAPY:
Use in aromatherapy baths, diffusion, or massages for a calming, relaxing effect.
Burn in bathrooms, kitchens, basements for a fresh natural "Caribbean" smell.